Hi everyone!
Did you see yesterday's tutorial by Elena?
I think it's very useful! But for today I had have a little tutorial too!
I used the shaded image below by Emily Luella and it's called "Daisy Daydream Shaded Digital Stamp". I'll show you how you can colour them without lighten them up.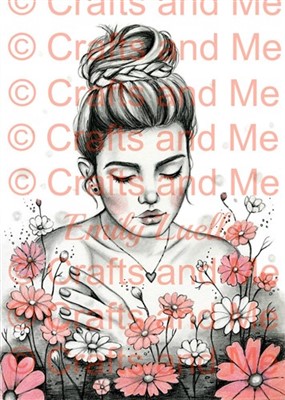 First I've printed the gorgeous image and coloured the deepest shadows of the skin first with my Copic marker E13. Just follow the darkest shadows that the artist placed.
Add E11 to all the dark shadows and blend the E13 shadows out.
Blend all previous colours with E00 and colour the whole skin except the lightest parts.
Blend everything together with E000.
I added a second layer of all the colours and now I'm satisfied with all the shadows. I really love contrast and I think the image looks less grey. And I've added some natural looking eyeshadow!
For the hair I've used R20 for the hair first. Then I've added R59 into the darkest area's.
After that I've coloured with the second darkest red, R27 and only left some highlights uncoloured.
And I've coloured the highlights of the hair with R22.
I've coloured her cheeks with R22 and blended with R20. For her lips I've used the darkest red R59 first. Just look where the artist placed the shadows.
I've filled the lips in with R27 and R24.
After the skin was ready I've coloured the background. The darkest parts I've coloured with V25, then V22 and at last V20 for the lightest parts.
I wanted to make a happy card with it, so I've used some bright colours for the flowers.
yellow: Y28, Y08, Y06, Y02
orange: YR07, YR04, Y38, Y35
pink: RV19, RV06, RV04, RV02
As finishing touch I've added some white dots with my white Sharpie pen.
A few tips for working with shaded images:
- Shaded images are great to colour if you don't know where to place your shadows. Here you don't have to think about the darkest or lightest parts, everything is done for you! Just follow the artist's shadows.