Hi everyone!
There are a few friends of ours who's getting married in august and I needed to make a card for them.
I could make a regular wedding scene but I thought, wouldn't it be fun to have a wedding at the BEACH?! It's giving just that little extra to the card.
So I used
"Let's celebrate"
(and it's on sale for just this weekend, grab it now if you want it!!!) and
"At the beach"
. Isn't this a perfect combination? I think it's so romantic!
The bride has red hair and the groom dark brown, so I coloured the stamps the same way. For the champagne bottle I've heat embossed the sparkle that comes out of it with some golden and white frantage. I don't know a right word for it, sorry ;-) I've added some glitter with my Wink Of Stella clear on her dress, bow and on his pants. Maybe it's looking a bit gay for him but whatever, it's fun!
And I also embossed the sentiment with golden embossingpowder. I've matted my coloured image on a piece of golden foilpaper.
If you are interested in the Copic colours I've used, here they are:
skin: E13, E04, E11, E00, E000
hair bride: Y21, E09, YR07, YR04
hair groom: 100, E49, E47, E43
white: C5, C3, C1, C0
gold: E37, E35, YR23, Y21
black: 100, N7, N5, N3
pink: RV29, RV25,RV21, RV10
eyes: B37, B34, B21/ C3, C1
mouth: 100, R59, R37
sky: BV00, BV02, V000, B000, B0000
palm tree: G28, G16, G14, G12/ E29, E25, E23
bushes: G28, YG17, YG13, YG11
sand: E33, E31, E53, E51, E41
sea: BG18, BG05, BG01, BG000
stones: W7, W5, W3, W1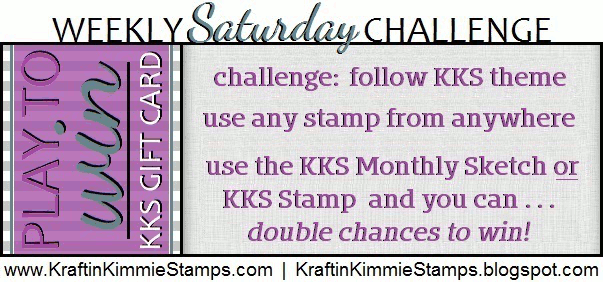 I hope you can join us!
Deborah